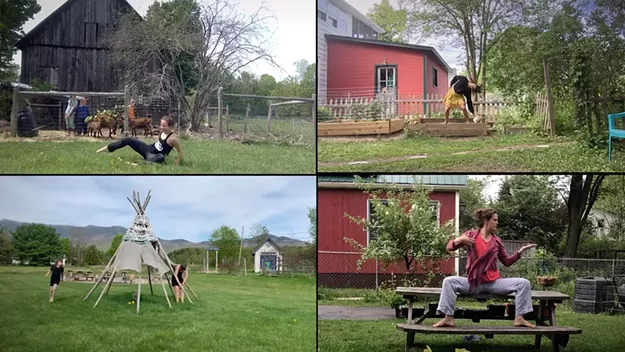 Vermont Dance Alliance and Black Freedom Fund Partner to Empower | Performing Arts | Seven days
Everyone needs to experience joy, perhaps especially as the country navigates a pandemic, political divisions and the tumultuous fight for racial justice. Through dance and philanthropy, the Vermont Dance Alliance and the Black Freedom Fund work to help people feed their joy and support racial equality in Green Mountain State and beyond.
In late June, the alliance, a statewide nonprofit that supports dance artists, released the "TRACES 2020 Virtual Performance" video. This is the pandemic version of the group's annual one-day event. Since 2017, TRACES artists have danced outdoors in Burlington – on sidewalks, alongside public sculptures, on the waterfront – where audiences have encountered them by design or by chance.
This year, the 11.5 minute video, produced by South Burlington's Scope Creation, features 31 dancers of all ages performing 30- to 60-second pieces in backyards and woods, on picnic benches and industrial staircases. The pieces are elegantly intertwined and set to music by local musicians. This is the most intriguing and satisfying dance video this viewer has seen in a long time. Smart, energetic and full of surprises, the video exudes joy and captures the normally fleeting live dance like an ever-accessible gem.
"People need this outlet for movement and connection to the community," Burlington's Hanna Satterlee, founder and executive director of the Vermont Dance Alliance. The group hasn't sponsored in-person events since the pandemic began and won't for a long time, she said. Eager for interaction, attendees enjoyed Zoom rehearsals and video collaboration; the alliance is therefore sponsoring more dance video projects. For example, on Monday it launched Dancing Digitally, a five-week interactive series of new work by five local choreographers.
"TRACES 2020" also came at a time when alliance board members "wanted to immediately give back to an organization working for racial and social justice," Satterlee said. After looking at many national groups, they discovered the Vermont-based Black Freedom Fund, which is a perfect fit with the alliance's empowerment mission. Just before the credits at the end of the video, viewers are asked to donate.
Christelle Brown is an artist, educator, entrepreneur and chair of the dance program at Middlebury College. In early June, she launched the Black Freedom Fund to support black artists, families, and entrepreneurs who are under-resourced due to COVID-19 or other challenges. Through this, she said, she aims not only to provide monetary gifts, but also to help create the conditions that promote joy.
"Most of the things we relish in this country that are made by African Americans are the result of joy, not pain," Brown said. "The publicity of pain overshadows the joy of music, of dancing, of love. It overshadows a lot of the work we've done to be able to be joyful people."
Brown enjoys using "TRACES 2020" as a way to raise funds, as the video illustrates the complexity of bridging different life experiences. Just as performers need to understand each person's role, we also need to "recognize what is happening in each person's reality" to change systems of racism and oppression, Brown said. The collaboration of the alliance and the Black Freedom Fund is "a way to take advantage of our realities".
In the Middlebury area, where Brown and her young son are among the few black residents, her neighbors and allies have recently started asking for advice on how to support racial justice.
One day she replied, "'I can do it. I can do something for you. Wait. Give me a minute,'" she recalled. Almost as quickly, Brown created the Black Freedom Fund under the auspices of his nonprofit. ENCOURAGE.
"There's a pain point happening right now, and there's a lot of confusion," she said. "When change happens, it has to happen person-to-person…in a meaningful way. I wanted to stand apart between different communities" by facilitating giving.
In less than a month, the Black Freedom Fund's crowdsourcing campaign surpassed its $10,000 goal — and the giveaways keep pouring in. As of Tuesday, 184 people had donated $20 to $1,000, totaling $14,457; some companies had also made donations, bringing the total even higher.
Brown has put $10,000 into an investment fund and uses the excess to donate about $500 each month. Through professional and personal networks, she identifies beneficiaries across the country for whom this amount would be important. As of now, there's enough to last about 14 months; after that, it will start drawing on accrued interest from the investment.
A recent gift went to a man Brown grew up with in Kinston, South Carolina. Initially, he was caught up in the crime, but after watching several of his friends die or be dragged into "the small-town prison pipeline where there's no opportunity," Brown said, "he completely changed his life." He is now married, has a son and is a generous force in his community, serving meals to the homeless, fundraising and cooking for neighbors, according to Brown. The man recently had his leg amputated and cannot work while waiting for the prosthesis. The Black Freedom Fund covered her July rent.
"Black joy is a reservoir," Brown said, which enables people to persevere despite loss, pain, and misfortune. Sometimes a gift can help fill it.